PreViser: Empowering You to Take Charge of Your Oral Health
A Healthy Mouth is an important part of your overall health!
Oral health is very important to a person's overall health. Scientific research continues to reveal how being free from dental disease is important for a person's heart and circulatory system as well help avoid complications from diabetes and other chronic diseases. And a pregnant mother's oral health can even impact the health and birth weight of a new baby.
PreViser's Oral Health tools that help you understand your risk for oral disease and your current condition help you take charge of maintaining or improving your oral health. The tools help provide you with information you need to foster an open and collaborative relationship with your dentist and hygienist.
Some people may need more preventive care than provided in the typical dental benefits plan. Many of these plans assume that everyone has the same dental care needs. But, just like many other things in life, "one size does not fit all"!
Know your score!
You probably know your blood pressure and your cholesterol scores. Maybe even your credit score. But what about your oral health score? PreViser can help. Take the mydentalscore self-assessment by clicking here. This self-assessment is completely confidential and it is free! By answering some quick and easy questions, you will receive a private report that provides your oral health scores as well as offers you tips on improving and maintaining your important oral health. We then encourage you to print out your report and share it with your dentist and hygienist on your next visit. Here is an example of the easy to read but informative report you will get: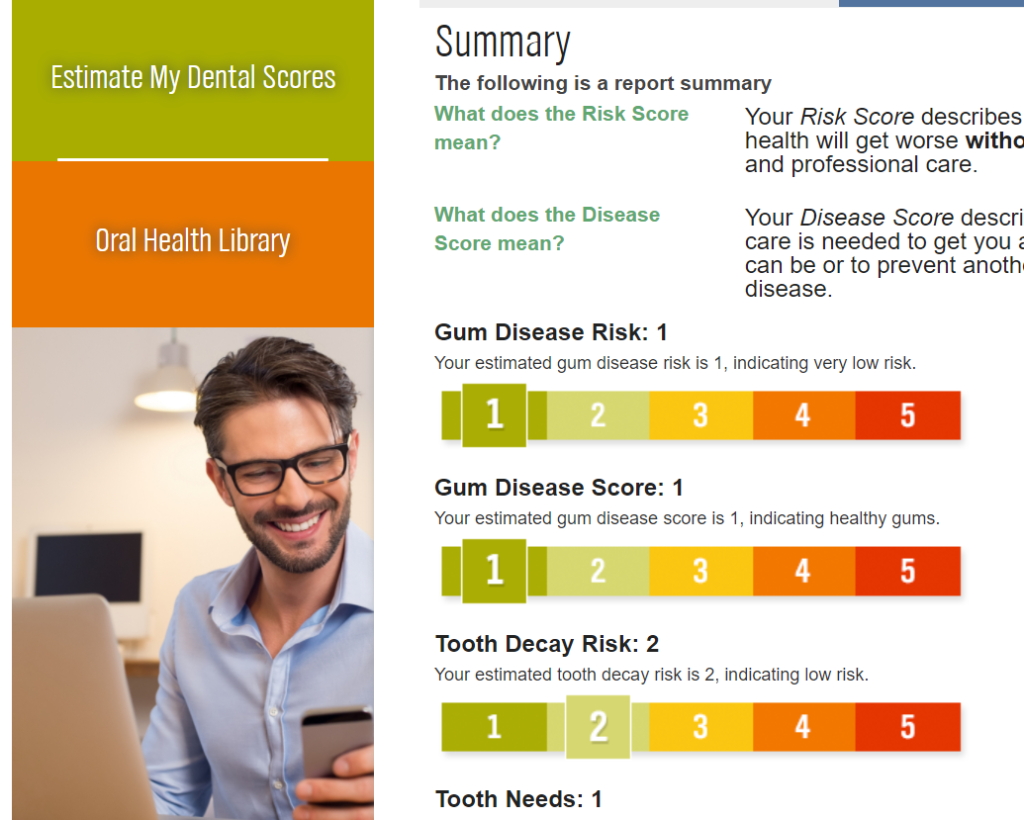 Want to know more?
Your dentist can use a PreViser clinical tool called the Oral Health Information Suite – or OHIS for short – that is a web-based software that can clinically verify your oral health scores. This is a good way to open up a conversation on how you can improve your oral health or maintain the healthy mouth you have now.
Your oral health professional may already be using the PreViser OHIS tool. If they are not, it is easy for them to sign up for a license and it is free to all dentists. Just ask your dentist to go to my.previser.com/signup – it only takes a few minutes to set this up and they can start using it right away to give you the scores!

Some employers are now working with dental benefit providers who will offer extra preventative benefits – like extra cleanings or fluoride treatments – to members who have a higher risk or disease severity score from the clinical OHIS tool. Check with your Human Resource Manager to see if your organization is offering this.
However, either way, PreViser encourages you to take charge of your oral health and be sure to use your preventative care – a health mouth is so important to your overall health! And PreViser is here to help you achieve this!
The following institutions recommend a risk assessment as part of your dental care – ask your oral health professional to provide you with the PreViser OHIS!
American Dental Association (ADA)
American Academy of Pediatric Dentistry (AAPD)
American Academy of Periodontology (AAP)
American Academy of Oral Medicine (AAOM)
Want to learn even more about your oral care?
Check out some of the articles in PreViser University for some important tips on keeping your mouth healthy!