Creating and Accessing your Previser Account
Q: I want to register for a PreViser account for my practice. How do set up an account?
Setting up an account is easy! Follow the next few steps to register for your free account:
a. Go to www.previser.com, click on the Clinicians and Academics tab, and click on "Get a Free Account."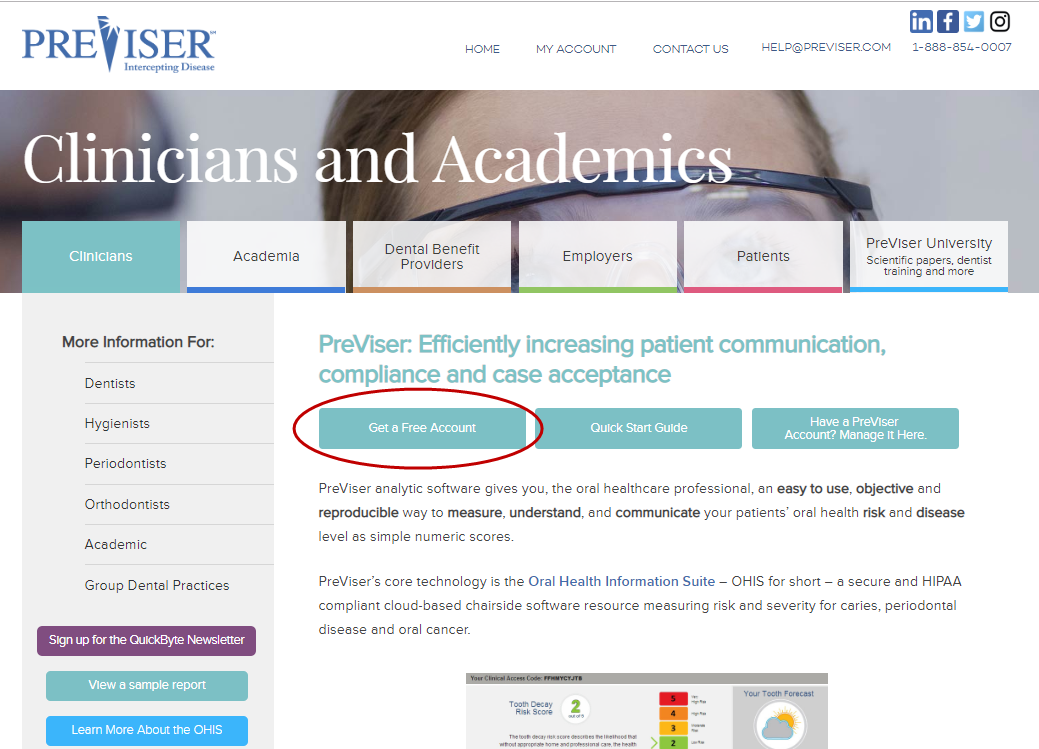 b. Select the country in which you practice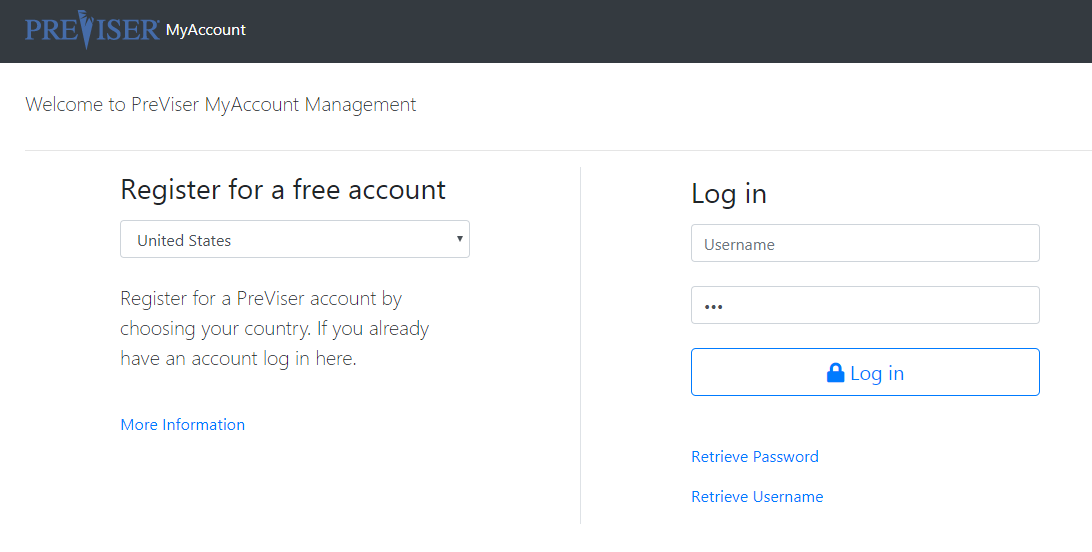 c. Type in the name of the dental provider registering for the account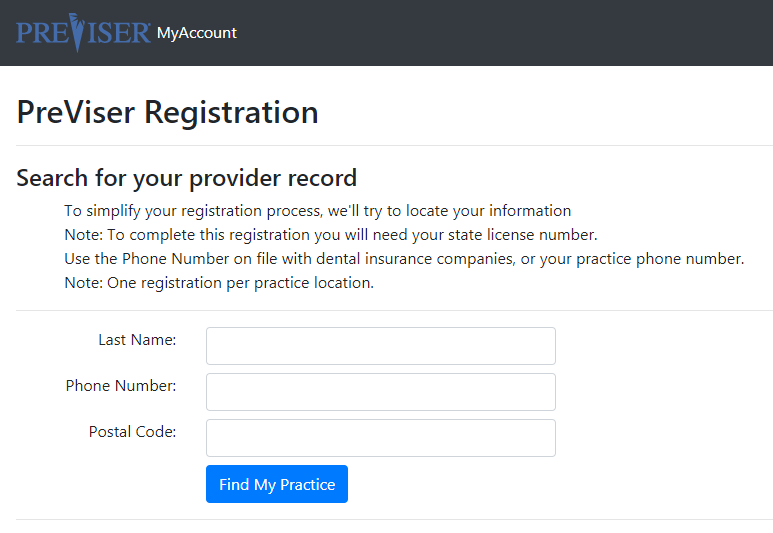 d. d. The information entered will ping the National Provider File and will pre-populate your practice information. If your practice information displays, select you practice and click "Continue." IF you have entered your practice information correctly, and your practice information does not display, click "Continue" to register manually.

e. e. Fill in your practice information, select the email address to be associated with your PreViser account, as well as a username* and a password** for your PreViser account. You must also input the primary dental provider's information and create a PIN number for this clinician. *Username should be at least 8 characters long, using alphanumeric characters, dashes and underscores only. Once chosen, the username cannot be changed.
**Password must be at least 10 characters long. Passwords can be reset and/or changed.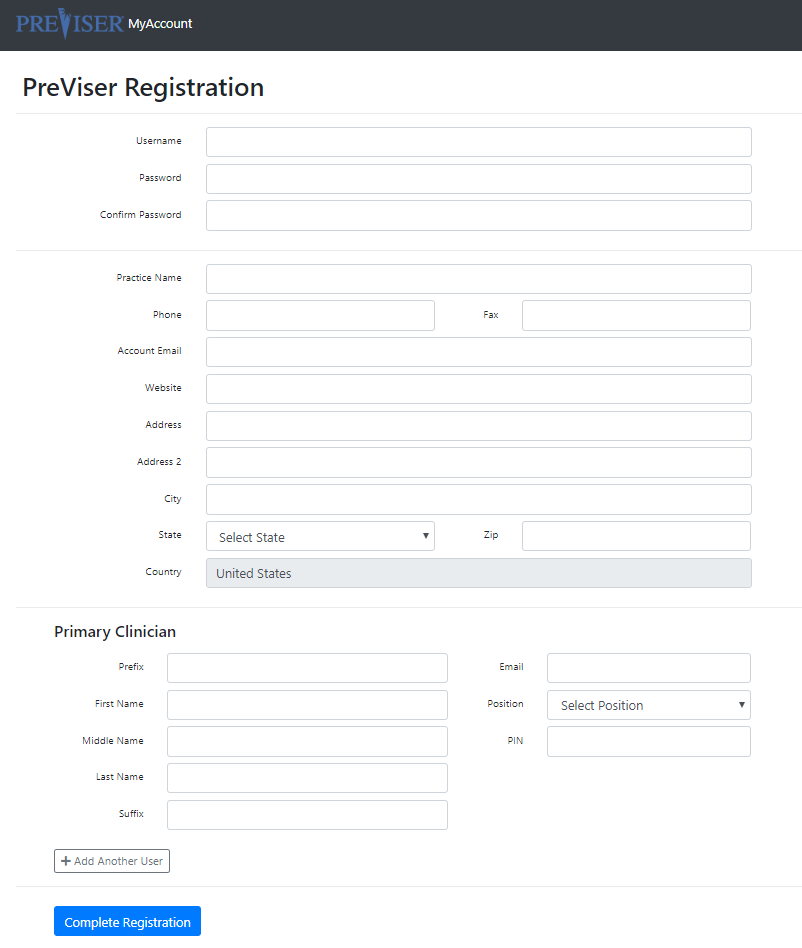 f. Add additional users/clinicians to your account, create PINs, and grant admin access when appropriate. Then click "Complete Registration."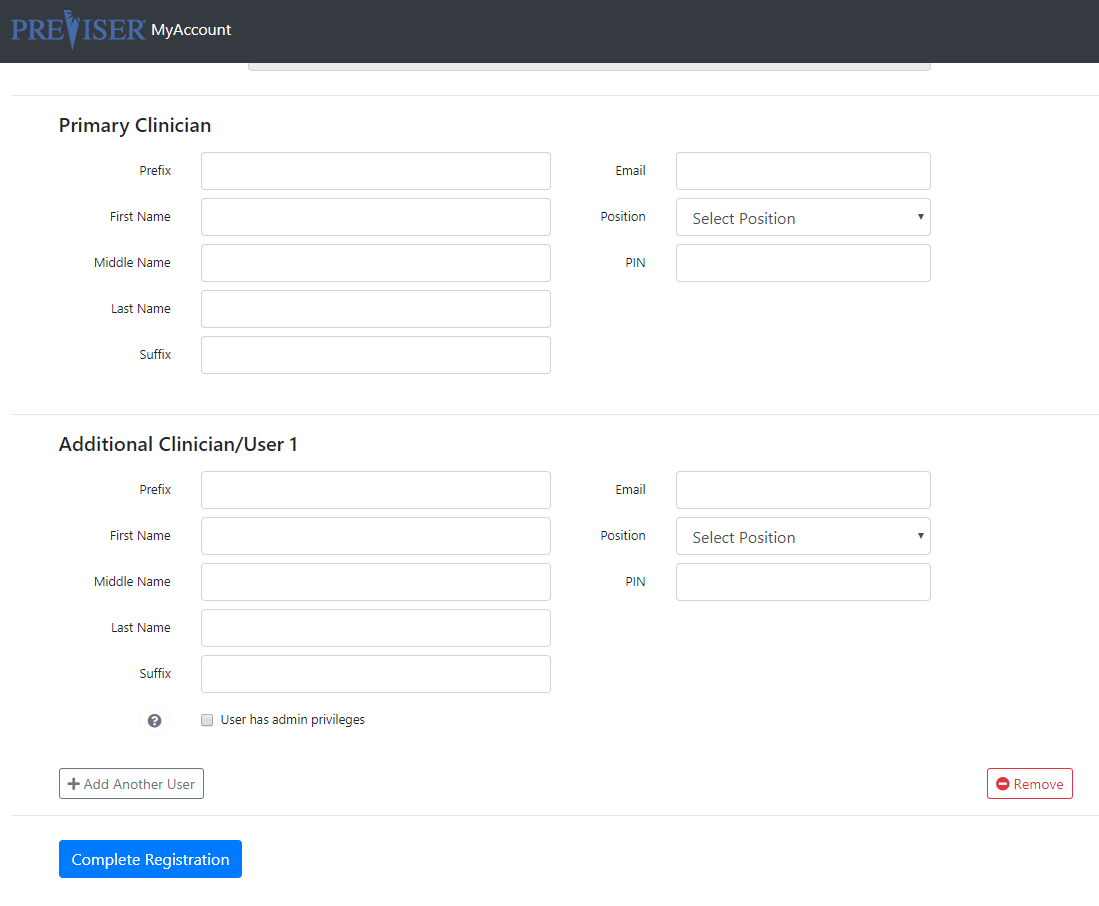 g. You will then receive an activation email. Click on the "activate account" to activate your account.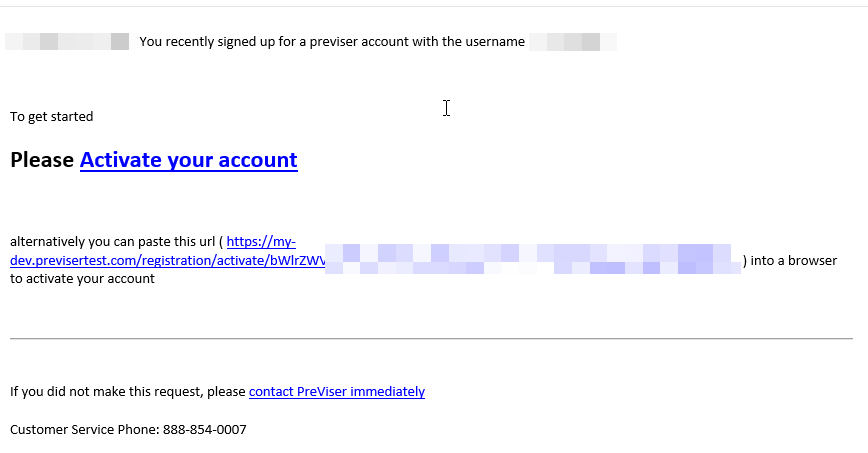 h. h. (Optional) Now you can log into PreViser at www.previser.com and personalize your account by selecting "My Account." Once logged in, you can edit your practice information, add a photo, and manage additional users and PINs here: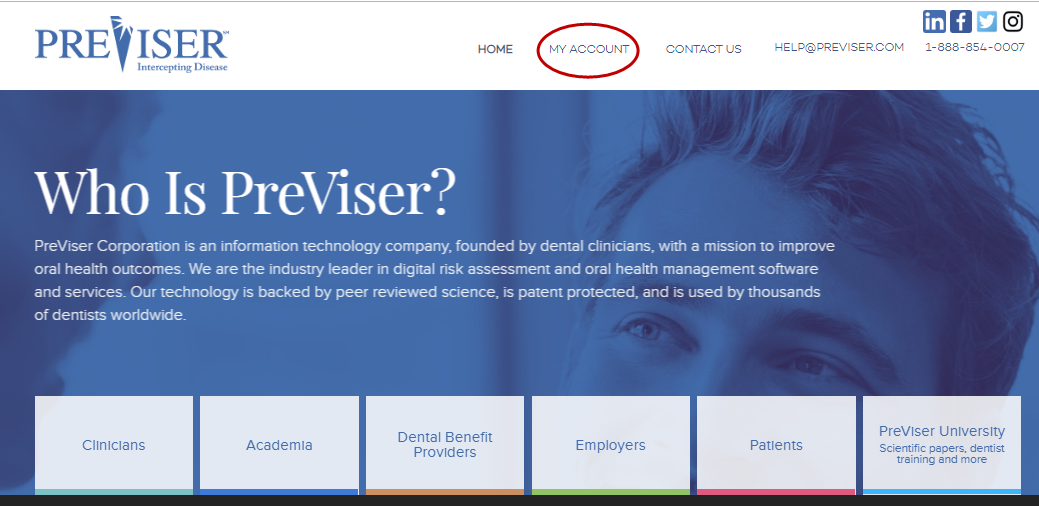 Q: I've registered for my PreViser account. Now how do I get to PreViser OHIS to start patient assessments?
You can access PreViser Oral Health Information Suite a few ways, being sure to use Google Chrome to access the site:
a. You can type in https://secure.previser.com into your web browser address bar
b. You can go to www.previser.com and click on "Go to PreViser OHIS"
c. Or you can set up a shortcut on your desktop, linking the shortcut to https://secure.previser.com. To create a shortcut, go to your desktop. Right click on a blank space on your desktop and select "New." Then click "Shortcut." In the address bar, type in https://secure.previser.com, and name the shortcut, PreViser. Click Finish or OK.
Encryption Key Q&As
Q: I logged into PreViser OHIS for the first time, and PreViser is prompting me to create an encryption key. What is that and why do I need to create one?
The first time you log into PreViser OHIS, PreViser will prompt you to create an encryption key for your PreViser account. This key will encrypt your patients' data, making it de-identifiable upon being sent to and from the PreViser servers. When PreViser sends you back the scores for your patient to your account, your encryption key will unencrypt your patients' data so you can see the scores and report for your individual patient.
Q: Do I need to enter an encryption key on every computer?
You must enter the encryption key you created for your account on any computer that you wish to have access to your PreViser account.
Q: Do I have to enter the encryption key every time I log in?
No, you should only have to enter the encryption key once.
Q: I've already entered my encryption key on this computer, but it is now asking me for it again. Why?
PreViser is likely prompting you for the encryption key because the key was cleared from your browser cache. So here's what may have happened:
a. Be sure you are using Google Chrome to access PreViser. Some other browsers may clear the cache.
b. You may have recently cleared your browser history. This may include your stored encryption key.
c. When you are logged into PreViser OHIS, you may have "unregistered your computer" within the Options/Settings menu.
If any of the above scenarios are true, log into PreViser OHIS using Google Chrome and re-enter your encryption key.
A few pointers about your encryption key:
I. PreViser does not have access to your encryption key. This means you must keep this key in a safe place because we will never be able to retrieve this for you.
II. If, however, you lose your key and cannot remember it despite your best efforts, we can reset your encryption key. We ask that you make your best effort to retrieve your encryption key before we reset it, because once it is reset, you will not be able to access any patient information or saved/completed assessments you have completed under that encryption key.
PreViser Accounts
Q. Do I need a PreViser account for every dentist in my practice?
No. You should only need one account per practice location. Typically, the patients of the practice are shared between dentists, so only one PreViser account is necessary and recommended.
However, if the dentists practice in the same location, but DO NOT share patients, and want to keep their patients siloed, then two accounts would be necessary. This can get a little tricky IF the assessments are done on shared computers. To avoid having to Unregister and re-register with an encryption key every time you log out of and into different PreViser accounts, you should create the same encryption key for both accounts. This does not mean that each account cannot have their own username and passwords. But by using the same encryption key, the user will more easily be able to log out of and into the other PreViser account.
Q: I have been using PreViser OHIS to assess my patients for both of the dentists in our practice, but now I can't see my list of patients.
This can happen if you have created more than one PreViser account, and set different encryption keys for each account. This means the first encryption key that you set on your computer is the one that PreViser is calling. Therefore the incorrect encryption key cannot and will not decrypt your patient list for privacy reasons.
a. Log into the other PreViser OHIS account where you can retrieve the encryption key under Options/Settings on the left menu. Select "Set encryption key" and then scroll to the bottom of the page and select "Retrieve Encryption Key." Be sure to write that encryption key down and keep in a safe place. You will now have to "Unregister this computer" by going to Options/Settings and clicking on "Unregister this computer." This will clear the stored encryption key from your other PreViser account.
b. Log out of PreViser OHIS
c. Log into PreViser OHIS of the account that you want to see the patient list. PreViser should prompt you to set your encryption key. Be sure to enter the correct encryption key for that account.
d. If you want to bounce back and forth between accounts, this is the process by which you can access both patient lists in each account. You must "Unregister the computer" if you have two accounts with difference encryption keys that you want to access.
Using Previser In Your Dental Practice
PreViser OHIS – team technology
Q: Who should be using PreViser OHIS in our practice?
Every practice is different; so one model may not work for every practice. Typically, use of PreViser works best if the dental practice uses PreViser OHIS as a team. Just as the administrative staff would create a new patient in your practice management system, they can enter a new patient into your PreViser OHIS account. This will decrease the amount of time that the dental provider will be spending on entering this information. Also, some dental insurers are using PreViser to adjudicate benefits for their beneficiaries. And since the administrative staff of the dental practice are the experts of patient information related to dental benefits, it is efficient for this task to be done by them.
The assessment can be done by the dentist, but is typically completed by the dental hygienist. Completing a risk assessment requires the patient's clinical data to be entered into an instance of OHIS in order to generate scores and a report for the individual patient. The dental provider can access the patient created by searching the "Browse Patients" list on the home screen of your PreViser OHIS account. When completing the assessment chairside, you may achieve an increase in patient engagement by explaining the scores to your patient. By understanding the scores, the patient may be more likely to comply with your recommended treatment plan. Using PreViser as a third-party, objective measurement may make the patient feel empowered to make a more informed decision about their oral care.
FLOW OF PREVISER USE: Admin creates the patient in your PreViser account -> dental provider finds the patient from the "browse patient" list while in their operatory -> the dental provider completes the assessment -> dental provider shares the results with the patient -> dental provider reassesses the patient at recall appointments to monitor oral health changes and inform/motivate/encourage patient behaviors.
Time Savers Using Previser
How to be efficient with your time using PreViser
Q: I already have so much to do during my recare visits. How will I ever fit doing a risk assessment in to my appointments?
You likely already know the answers to the questions in the risk assessment because you are gathering that data during your clinical assessments. All of the questions in the OHIS are within the scope of practice of the dental hygienist and dentist to be able to answer. The first time you risk assess your patient, it will take about 5 minutes. But as you risk assess you patient over time, you can "Load the Last Assessment Values," which will load the values of the patients last assessment. From there, you can pick and choose what has changed. This takes only a matter of seconds to a minute or so. See the FLOW OF PREVISER USE to help with time management
Pre-loading patient information
Q: Can I preload my patient's clinical information before they are chairside?
YES! In fact, if your patient's data is relatively current, you can preload their clinical data before your patient arrives. You can do this during your morning huddles, or if you have a patient cancellation during your day.
You will start the assessment as you normally would and enter the clinical information that you have from your patient's chart. Then, you will confirm this information once you clinically assess your patient chairside. For example, you will likely not take radiographs every 3 months. So the bone levels from the most recent radiographs are likely not to change that dramatically. Therefore, you can enter that clinical information into the patient's periodontal assessment, and click "Save for Later." Then, when your patient arrives, and once you've finished clinically assessing your patient, confirming the bone levels have not changed, you can click "Finish."
Using patient intake forms to your advantage
Q: What other time savers can you suggest?
Some of the questions in an instance of PreViser OHIS are asked on your medical history intake forms. For example, if you don't already ask about it, adding a question about smoking status and diabetic status, along with oral hygiene and nutritional habits will come in handy, and will prevent extra time in asking the patient these questions chairside.
One assessment at a time
PreViser offers the ability for you to complete one assessment at a time. The options for assessments are Caries, Perio, Oral Cancer, or Comprehensive. The Comprehensive includes the questions of all the other 3 assessments. Using the comprehensive assessment can be a great way to get a baseline understanding of your patients' overall oral health. However, you may not have enough time to complete a comprehensive assessment for your patient. So as a clinician, you can choose which risk assessment to perform for your patient. If time lends itself, you can always go back and start another assessment. Likewise, you can revisit those oral assessments at subsequent appointments.
For example, if you are using the majority of the appointment to talk to your patient about their periodontal disease, and your patient has never been informed of their disease status before, perhaps concentrating on the periodontal risk and severity scores is more important today, as the this information is critical today. At a subsequent appointment, you can then perform the caries and oral cancer assessment.