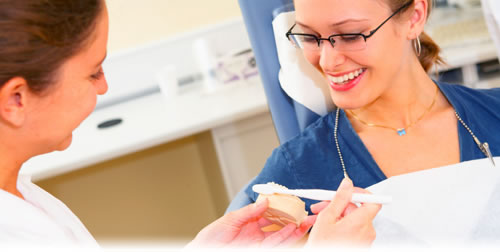 PreViser for Hygienists
PreViser Scores Don't Lie
PreViser helps patients "get the message" about the importance of oral health, as well as the importance of routine professional oral care.
Hygienists in PreViser offices report that the time it takes to effectively counsel patients on oral health topics is greatly reduced when the conversation takes place over the PreViser OHIS report.
In addition, the time it takes to communicate the oral status of the patient to any supervising dentist is reduced since the OHIS scores give an effective overview of the patient's current health.
The result? Greater professional satisfaction for the hygienists, and happier more compliant patients.
PreViser analytic software gives you an easy to use, objective and reproducible way to measure, understand, and communicate your patients' risk and disease level as simple numeric scores.
With these scores, you can track changes in risk level and disease severity over time to evaluate treatment effectiveness and outcomes. The result? Effectively targeted patient interventions, enhanced patient compliance and outcomes, more efficient communication with your dentists, and an enhanced role for you in the overall practice.
"PreViser is making hygienist's dreams come true. "
Nov. 2005, HygieneTown magazine (cover story), "Numbers Don't Lie – a new, innovative way to calculate perio risk"

"Hygienists are excited about this product because it provides a single language to discuss periodontal issues and treatment with the dentist. It will also make discussions with the patients easier… People relate to numbers. Knowing their numbers gets them involved. They know their blood pressure; they know their cholesterol. Now they'll know their periodontal disease scores and look for improvement in the numbers….. PreViser is making hygienist's dreams come true. "
Understanding Risk
PreViser risk scores add the 'third dimension' to an understanding of patient needs, and differentiate between patients with the same current health/disease state, but who are at varying potentials that this state will deteriorate.